You know, I really love silverbeet. I can tell it's love because I don't just like to eat it, I feel the need to protect it. I worry about how people seem to think of it as inferior to spinach. It's so unfair because silverbeet is better really - it doesn't turn into a little pile of nothing, it doesn't make your teeth go funny and fuzzy. Best of all, it's so easy to grow so you can always have some for all your greenery needs. Still being a bit homeless myself I went over to Marion's to pick some from her crazy overrun underloved garden and made pie. Pie making seems to be what i do these days.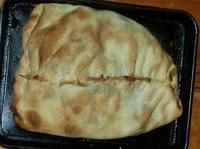 Silverbeet Torte
My cousin Tessa made this for Chrismukkah dinner (see picture) and it rocked. We kept calling it a pie and she got a little irate and insisted we call it a torte. As far as I knew a torte was a cake. Dictionary.com agrees. But hey, if she wants it to be a torte that's fine. Either way it's real yum and has a great texture in the middle because of the egg and potato - it's a bit like spanish omelette in that way. I made the recipe as it is below but I'd probably make the dough without using a food processor next time as I think it was a little overworked. I made mine round as suggested and a little flatter - about 3 inches high.

Dough:
200g p flour
1/2 tsp salt
1+1/2 tsp extra virgin olive oil
1/2 cup cold water

Whizz flour and salt in food processor. Drizzle in oil and then water. Process dough for about a minute until it forms a ball. Remove to floured surface and knead for 2-3 mins until supple and smooth. Place in bowl, cover with cloth, refrigerate for 2 hours. Preheat oven to 200c & lightly oil a 28cm pizza tray (or whatever).

Filling:
150g silverbeet leaves and stalks (or rainbow chard), washed and drained
1 tbsp salt
1 medium potato (150g), boiled whole & roughly chopped
1 medium onion, finely chopped
2 tbsp chopped parsley (I used more of course)
150g crumbled "stretchy" cheese (fontina, asiago, mozzarella or feta - I used fetta and some swiss that was in the fridge)
freshly ground black pepper
1 large egg
2 tbsp extra virgin oil
sea salt

Finely shred and chop silverbeet. Place in colander and toss with tbsp of salt. Leave for 20mins, then rinse and squeeze dry (Tessa says you can skip this step but I'm such a stickler I didn't). Mix silverbeet with chopped potato, diced onion, parsley and cheese. Season with pepper. Whisk the egg with the olive oil and mix through the filling. Taste for salt.

Roll two-thirds of dought on floured surface into a circle to cover base of pizza tray. Spoon on the filling, leaving 2cm border of dough. Stretch back the edge of dough over filling pleating it as you go. Dampen with water. Roll remaining dough a little smaller and drape it over the filling. Press to seal with the pleated edge. Pierce here and there with a fork then drizzle top with remaining oil and scatter with a few grains of sea salt. Bake for 20 mins or until golden. Leave to settle 10 mins before cutting.